Rise And Shine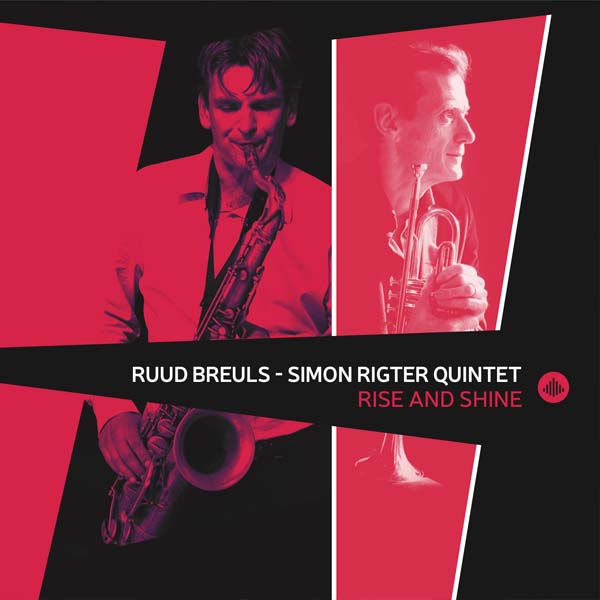 Bert Jansma (jazz journalist): "Such nonsense, those discussions about jazz-then, jazz-now, jazz-in-the-future and jazz-how! These were my first thoughts while listening to "Rise and Shine' by the Dutch Ruud Breuls/Simon Rigter Quintet. Because I heard pure jazz, jazz of all eras. Not pretentious, no affectation, no back-door agendas, but jazz by five musicians who got together 'just' to make beautiful music. Each of them is highly skilled, and always conscious of the emotional content of their sound. Tenor sax player Simon Rigter and trumpeter Ruud Breuls first got together in 1997 under the leadership of pianist and father of Dutch jazz Cees Slinger, in the band Buddies in Soul. Slinger passed away in 2007, leaving the "buddies' Breuls and Rigter on their own. Both are highly respected soloists in big bands, the former in the German WDR Big Band, the latter in the Jazz Orchestra of the Concertgebouw. In their current quintet, they are joined by a rhythm section of the same high calibre: pianist Karel Boehlee (who has accompanied Toots Thielemans in his European concerts), bass player Jos Machtel and the versatile drummer Marcel Serierse. Amongst the compositions they present here, there's only one standard: "Let's Cool One" by Thelonious Monk.
The remaining seven are their own work, emphasising the musical personality of the band. Three of them are penned by tenor man Rigter and four by pianist Boehlee, proving them to be strong storytellers with a colourful palette. Simon Rigter likes to quote Dizzy Gillespie, who said that good jazz has to have one foot in the past and the other in the future. "In my compositions, I am a bit more conscious of the past," he comments, "while a musician like Karel Boehlee writes with a more modern approach". Be that as it may, the match is ideal. Listen to Simon's boppish "Blanton", referring to Ellington's bass player Jimmy Blanton, one of the most influential bassists in jazz history, or his 'Rise and Shine", with echoes of the Messengers. Or Boehlee's beautiful "Goodbye Cerbaia", its pain veiled by beauty and with Breuls as the perfect balladeer on flugelhorn. And Marcel Serierse's brushes and sticks leading Rigter's jumpy "Olivia's dance" written for his little niece; or Boehlee's sensitive and thoughtful "Passage of Jaco". Emotions and colours galore. 'Honest music,' Simon Rigter adds. 'We recorded it in a single take, no additions, no repairs.' Jazz that is heartfelt."
Ruud Breuls - Trumpet & flugelhorn, Simon Rigter - Tenor Saxophone, Karel Boehlee - Piano & Fender rhodes, Jos Machtel - Double bass, Marcel Serierse - Drums
Nominees Edison Jazzism Audience Award 2020
16-10-2020 Jazzism
An extremely compelling album! As if that music has always existed, has a natural flow, the evidence itself.
06-11-2019 JazznMore
on Rise and Shine there is an emotional and colourful brass section on the programme... top- class original compositions...
01-08-2019 Inmusic
Jazz from the time of jazz
14-06-2019 Jazzism
Music from the Simon Rigter - Ruud Breuls Quintet at its best: from the heart to the heart.
12-06-2019 Dagblad De Limburger
Another tasteful group that shows that Dutch jazz is at a high level.
03-06-2019 Rootstime
Everything is right on "Rise and Shine". With this energetic and soulful album, these old dogs show that the jazz tradition is alive and kicking.
26-05-2019 Jazzenzo

Listen to the album on your favorite streaming platform or click here to buy a physical copy.